DAVID CHAPMAN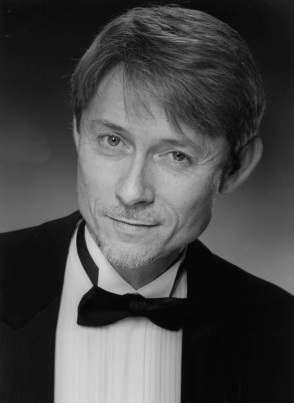 DAVID CHAPMAN, PIANO
David Chapman, a native Californian, holds degrees and performance diplomas in piano performance from the Peabody Conservatory of Baltimore, Maryland, and the Eastman School of Music in Rochester, New York where he was concerto soloist and served as opera coach in both conservatories. His major formative teacher was Aiko Onishi, with continued training under Cecile Genhart and William Doppmann. He went to Stuttgart, Germany on a Fulbright grant in solo piano performance for two years.
During the eleven years he lived in Europe, Mr. Chapman performed in recital in Austria, Italy, Switzerland, Denmark, Hungary and Germany under contract to Steiner,

Weylach and Schulte concert managements. He has recorded for the Suddeutsche Rundfunk (Stuttgart radio) and Westdeutsche Rundfunk (Cologne radio) and has appeared on German television with soprano, Felicia Weathers (Erste Sendung, Hamburg). He studied orchestral conducting with George Cleve and choral conducting with Charlene Archibeque. For six years he conducted and arranged music for chamber orchestra and choir for tours throughout Germany with soloist Felicia Weathers. He has played in master class for Martina Arroyo, Evelyn Lear, Felicia Weathers, William Ray, Hans Hotter, and Elisabeth Schwarzkopf.
Mr. Chapman coached three years at the International Bach Academy in Stuttgart under Helmut Rilling, performed in several Stuttgart Ballet premieres and worked as pianist in performances with Fernando Bujones of the American Ballet Theater. He has musically directed, as well as stage directed, many musicals and operas and has himself performed on stage nineteen lead or character roles. Mr. Chapman recorded solo piano music for the motion picture "The Successor", starring Jason Connery, which was released for European distribution.
He began teaching vocalists in 1990. Since then his studio and reputation have grown and he has given voice master classes at the University of Oklahoma (Norman), the University of Nebraska (Omaha), in China at the Sichuan Conservatory in Cheng-du and Pedagogical University of Beijing, and at the Moscow Conservatory in Russia. He was sponsored by the Shanghai Opera House to give voice master classes for one week each at the East China Pedagogical University and the Shanghai Music Conservatory, and for three weeks at the Shanghai Opera House, which culminated in a gala concert at the city's Grand Theater with David accompanying all the singers at the piano.
He is a founding member of Vocal Arts International, a group dedicated to establishing a network of cultural exchanges with singers of other countries, in which American and foreign artists perform, teach master classes, and exchange information both at home and abroad. He is a member of the Friday Morning Music Club and the National Association of Teachers of Singing (NATS). Mr. Chapman has collaborated as pianist and coach with internationally known dramatic soprano Alessandra Marc for the last seven years. Among the many different concert and recital venues in which he has performed are the Kennedy Center Opera House, National Gallery (3 times), Corcoran Gallery, Women's Museum, Anderson House, the British, Swedish, Polish, Finnish and Chinese embassies, as well as Boston Symphony Hall (twice) and Carnegie Hall (Weill Recital Hall, twice).
David has a large private voice studio, is a member of the adjunct faculty at the Landon School for Boys in Bethesda, MD, and is finishing his ninth year as music director and pianist at Paint Branch Unitarian Universalist Church in Adelphi, MD.
---