ZHANG LIHUI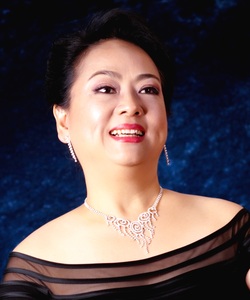 I first met with David during our rehearsal at Robin Wang's home in Nov of 2007. Robin, founder of the Mulan Foundation, was preparing for a concert under the Mulan Foundation at a church in Maryland. I was not only amazed at David's piano expertise, but also his ability to coach singers and make us feel confident. The small concert on December 10th, 2007 was successful and it led us to do another concert called "The Songs of Love" right before Valentine's Day in 2008. Ding Gao and I were there. David was the pianist again and he did a wonderful job!

Prior to our collaboration, David had already established a deep connection with Chinese musicians and even taught at music conservatories in China. When my best friend, Professor Fang Qiong from Shanghai Conservatory of Music came to the United States in 2000 to study vocal music at Maryland University, David helped her enhance her vocal skills and overall knowledge of music. Qiong benefited a lot from his coaching and they became good friends. When Qiong decided to have her recital in Shanghai in May 2001, David was invited to China to be her pianist. Qiong told me many times that she learned a great deal of vocal music not only technically but also the soul of music from David. Last year, when I decided to fulfill my dream of having my recital in the United States, Prof. Fang Qiong rearranged her busy schedule and made herself available to be my special guest singer at my recital. She didn't request anything from me but just asked me to find David Chapman to be her piano accompaniment. "I miss him and want to see him", Qiong expressed her feeling to me on the phone. David happily accepted it and once again, he was on the stage with us (see pictures below). It was wonderful to have David join my recital; our Chinese audience told us that he was great! The compliment for him was not only toward his piano skills, but also for his refined stage demeanor. I, along with my pianist Yang Jiayue and classmate Ding Gao were all grateful to have David as part of my recital. Now, it is our pleasure to attend this benefit concert for David, and we will be joined by our soprano friend Xiao Ling. When Ling heard about David's illness, she immediately expressed her willingness to partake in this meaningful event.

We, as David's Chinese musician friends, wish him a speedy recovery so we can Listen to the Music together! Zhang Lihui

Mezzo Soprano Zhang Lihui, graduated in 1987 from Shanghai Conservatory of Music where she was coached by professor Gao Zhilan and Qian Huina. During her professional career as a solo singer, Ms. Zhang worked at the Guangzhou Art and Dancing Ensemble and also at her hometown's Hunan Television and Broadcast Art Ensemble. Ms. Zhang is currently one of the artist directors of Yellow River Art Ensemble (YRAE) in the Greater Washington area. She has made numerous appearances on DC's stages and has received outstanding reviews for her performances.


---