LU-HSUAN LUCY CHEN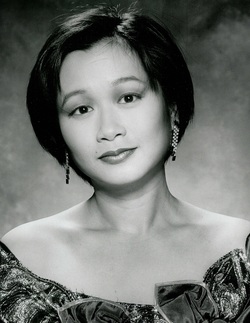 David Chapman - My Kwei Ren

David Chapman is my voice teacher, vocal coach, pianist, mentor and loyal friend for fifteen years. In Chinese saying, he is my "Kwei Ren", or "Special Person". It is a term incorporating many meanings. If one tries to translate it, it could mean"savior at a crucial moment."

He is indeed my savior in many ways and in countless times throughout my singing career. There was a time when I was confused and frustrated to the point that I hated singing. He took me under his broad wings, and taught me new approaches to singing which were comprehensible and effective. Then he played for all of my recitals. In 2005, after I had two children, exhausted and depressed, I called him again after having disappeared for many years without contacting him. On the phone, I confessed that I had not been singing, yet I wanted to sing in in an upcoming concert, and I asked him if he would be so kind as to work with me again. "Of Course" was his reply, much to my relief. I started singing again.

Over the years, I have really learned to appreciate his musicianship, technique in piano and voice, vast repertoire, and knowledge in diction. But most important to me is his honesty. Though sometimes brutally honest, I know that I can trust his praise and criticism. Consequently, I do not fear to attempt new techniques or make mistakes. Now, two more kids later, with more singing opportunities, I go to voice lessons with David every other week. I practice more, perform more and sing better than ever. All thanks to David, my "Kwei Ren." Lu-Hsuan Lucy Chen

---
Soprano Lu-Hsuan Lucy Chen, D.M.A. is a native of Taiwan. She received her B.A. from National Taiwan Normal University, her M.A. from the Peabody Conservatory of Music, and her D.M.A. from University of Maryland at College Park.

Ms. Chen was granted numerous honors and scholarships including the Peabody Scholarship, Berman Scholarship, GA and TA scholarships. In Competitions, Ms. Chen won the Ulrich Competition of UMD for Graduate Voice Division in 1997, and the Taiwan Music Competition for Adult Voice Division in 1992. She garnered second prize from Taiwan Teacher's Singing Competition in 1992, and Taiwanese French Song Competition in 1994. Ms. Chen was also a Finalist from Asian International Vocal Competition in 1996 held in Malaysia.

Ms. Chen is often invited to perform in concerts and festivals. In 1997, she represented the student body of UMCP to perform in "Bold Vision Bright Future Campaign Celebration" and "A Celebration of Scholarship." In 2000, 2002 and 2008 she performed in "Music From Taiwan". In 2005 she performed in the "Double Ten Celebration Concert" and sang in a series of concerts in Taiwan celebrating Professor Tong-Chuen Yang's 70th birthday. In 2006, she played the role of Ah-Hsia in the Taiwanese musical "Eternal Hope".

She is currently an active performing member of the Friday Morning Music Club. Her performing venues include The Sumner School of Music, Buckingham's Choice, and The Mansion at Strathmore. She has performed as a soloist twice with the FMMC Choral and Orchestra. In 2010, she performed "If God be for us"from Handel's Messiah. In January this year, she sang "Ihr habt nun Traurigkeit" from Brahm's Ein Deutsches Requiem.