ALESSANDRA MARC

The American Diva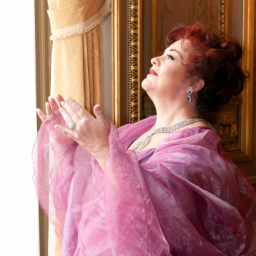 Dramatic soprano Alessandra Marc has consistently been acclaimed as one of the most outstanding artists of our day. With its unique colour, range, and quality, her voice has been praised as "an instrument of unsurpassed beauty and impact" and "perhaps the richest, fullest, most beautiful big soprano voice around" by Andrew Porter in The New Yorker.
"You sing like birds fly," wrote actor Tom Hanks, echoing the impressions of Luciano Pavarotti and Placido Domingo. "Such a voice," they have said, "comes only once in a century and lifetime!"
Ms Marc gave her first command performance at the White House in 1991, and is a frequent guest of the world's leading opera houses and orchestras, collaborating with the most eminent conductors and vocalists of our time. Ms Marc collaborated most frequently with the late Giuseppe Sinopoli, and she sang at his funeral mass in Rome in April of 2001.
Ms Marc disposes of a rich operatic repertoire. The title roles Aida and Turandot have become her signature parts, which she performs at the major international and US opera houses. Of her sold-out opening night performance of Aida at the Metroplitan Opera, the New York Times reported: "She displayed burnished tone and enormous volume, especially in climactic phrases that soar above the orchestra and chorus".
Ms Marc has recorded for several prestigious classical record labels, and has a substantial discography. Her debut solo album, 'American Diva', peaked at #13 on Billboard Magazine's classical charts. Another solo operatic aria recital disc, 'Opera Gala' with Andrew Litton and the Dallas Symphony Orchestra, remains popular to this day.
Ms Marc's longstanding commitment to her community and to meaningful charitable causes most recently included collaborating with the American Red Cross, performing in Washington DC for their annual summit conference of the
American Red Cross's Tiffany Circle
,
as well as performing in the 2011 Flight 93 Memorial Concert in Alexandria, Virginia.
Click here
to connect with Alessandra Marc on Facebook
.


---